Cutting the telephone cord…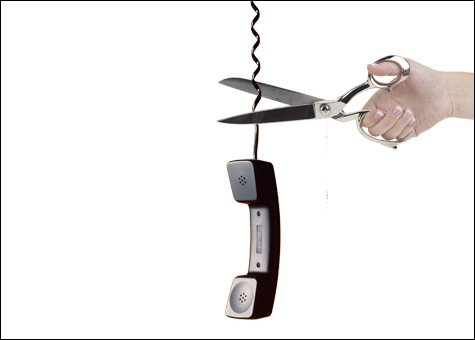 I'm sure you've noticed, but there are quite a few options for residential phone service these days. You have your traditional service from your local Telco, a number of Voice over IP options such as Vonage and there are digital cable services like the one I'm currently using from Comcast called Comcast Digital Voice service. I've used VoIP from Vonage and I'm now using Comcast Digital Voice and let's just say, they both have a few little "issues". So I'm one of the many millions of people out there thinking of going pure wireless with my cell phone and cutting the cord on the my home phone line. I just have a few reservations…
First, I've had our same home phone number for years. It's almost part of my identity! Not to mention a whole bunch of my family and friends have that number to reach me. Second, I really don't like the idea of using a cell phone at home phone for several reasons. Traditional home phones styles and functionality (speaker phones, multiple handsets, ergonomics…) still appeal to me. Technology to the rescue!
I've found a couple of interesting options that will allow you to use a cell phone at home, but connected into your standard home phone infrastructure. Check out the potential:
1) Add a line to my family plan for $9.99/month. (Verizon)
2) Transfer my old land-line number to my new cell phone line.
3) Use my existing set of home phone equipment already in place.
There are two relatively new devices that will enable this type of scenario. The first is a system called Dock N Talk from PhoneLabs. The other is a series of products from GE branded Cell Fusion. Both devices are designed to connect a cell phone into the existing infrastructure of your home phone system. The result is that you can make and receive cell phone calls using your existing phone wiring & hand set equipment. Sound intriguing? We'll see… I just ordered the GE Cell Fusion Gateway – the most basic in a series of products from GE's Cell Fusion line. In my next post, I'll let you know how it's working!